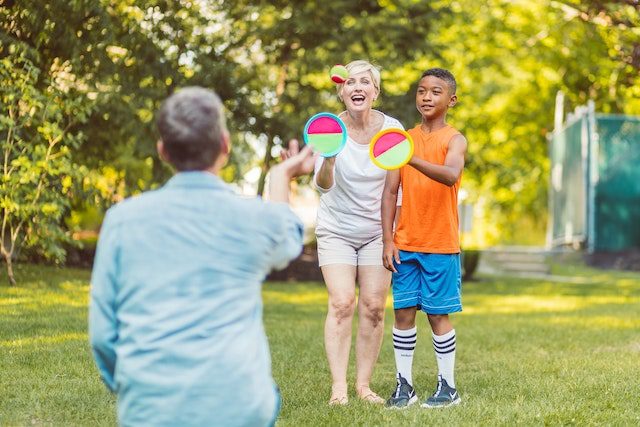 David Thompson, a dedicated fitness instructor and family man, recognizes the importance of prioritizing physical health within the family unit. In this article, David shares his insights and practical tips on nurturing physical well-being as a family. By promoting regular exercise, fostering healthy eating habits, ensuring sufficient sleep, managing stress, and encouraging open communication, David aims to inspire families to embark on a journey of collective wellness.
Physical activity is a cornerstone of a healthy lifestyle. David advocates for incorporating exercise into the family's routine. Whether it's going for walks or bike rides together, playing sports, or engaging in outdoor activities, exercising as a family not only promotes physical fitness but also strengthens family bonds and creates cherished memories. By making exercise fun and inclusive, families can establish a lifelong love for staying active.
A nutritious diet is crucial for maintaining good health. David encourages families to make informed food choices and prioritize wholesome, balanced meals. He suggests involving children in meal planning and preparation, teaching them about the benefits of different food groups, and fostering a positive relationship with food. By setting an example of healthy eating habits, parents can instill lifelong habits in their children.
Adequate sleep is essential for physical and mental well-being. David emphasizes the importance of establishing consistent sleep routines for the entire family. By ensuring that each family member gets the recommended amount of sleep based on their age, parents can support their children's growth and development, improve their cognitive function, and boost their overall health.
Stress can have a significant impact on physical health. David encourages families to adopt stress management techniques such as mindfulness, deep breathing exercises, and engaging in activities that promote relaxation. By fostering an environment where open communication is encouraged, families can support each other in times of stress and find healthy ways to cope and recharge.
David believes in creating an environment that promotes physical activity at home. He suggests setting up a dedicated space for exercise, whether it's a home gym, a designated area for yoga or stretching, or a play area for children. Having equipment such as weights, resistance bands, or exercise balls readily available encourages family members to engage in physical activity conveniently.
While excessive screen time can be detrimental to physical health, David acknowledges the role of technology in today's world. He advises families to use technology mindfully by setting limits and incorporating it in ways that promote physical activity. Utilizing fitness apps, workout videos, or interactive games that encourage movement can be a fun way to engage the whole family in physical activities.
Nature offers numerous opportunities for physical activity and exploration. David encourages families to spend time outdoors, whether it's going for hikes, picnics in the park, or simply playing games in the backyard. Outdoor activities not only provide exercise but also expose family members to fresh air, sunlight, and the beauty of nature.
David believes in celebrating milestones and progress as a family. Whether it's reaching a fitness goal, trying a new healthy recipe, or completing a family challenge, acknowledging and celebrating achievements reinforces the family's commitment to physical health. By providing positive reinforcement and support, families can inspire each other to continue their journey towards overall wellness.
Nurturing physical well-being as a family is a journey that requires commitment, communication, and a shared sense of purpose. By making exercise a family affair, prioritizing nutritious eating, ensuring sufficient sleep, managing stress, creating an active environment at home, incorporating technology mindfully, engaging in outdoor activities, and celebrating milestones, families can cultivate a lifestyle centered around physical health. Together, families can inspire and support each other on their path to a happier, healthier life.