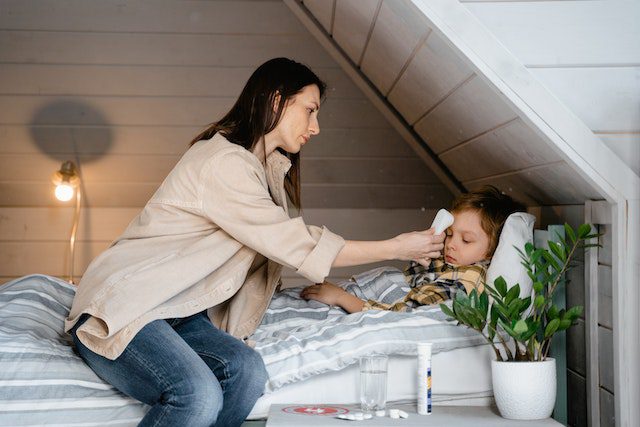 As a parent, seeing your child with a fever can be a cause for concern and worry. Fever is a common symptom of illness in children and can leave parents feeling helpless. However, understanding the causes, recognizing when to seek medical attention, and providing nurturing care can help ease your child's discomfort and promote a speedy recovery. In this article, we will explore the topic of kids with fever, offering practical advice and guidance to support families during these challenging times.
Understanding Fever in Children:
Fever is the body's natural response to fighting off infections or illnesses. It is typically characterized by an increase in body temperature above the normal range of 98.6°F (37°C). Fever itself is not a disease but rather a symptom of an underlying condition. It is important to remember that a fever is often a sign that the body's immune system is working to combat infection.
Identifying the Causes of Fever:
Fever in children can be caused by various factors, including viral or bacterial infections, immunizations, teething, or environmental factors. Common childhood illnesses associated with fever include colds, flu, ear infections, and respiratory infections. Identifying the underlying cause of the fever can assist parents in determining the appropriate course of action and seeking medical advice if necessary.
Recognizing Fever Symptoms:
Apart from an elevated body temperature, children with fever may exhibit additional symptoms such as lethargy, decreased appetite, irritability, chills, headache, muscle aches, or a rash. It is important for parents to monitor their child's behavior and seek medical attention if the child appears severely ill, experiences difficulty breathing, has a stiff neck, or shows signs of dehydration.
Seeking Medical Advice:
While most fevers in children are self-limiting and resolve within a few days, it is crucial for parents to know when to seek medical advice. Consulting a healthcare professional is recommended if the child is under three months old and has a rectal temperature of 100.4°F (38°C) or higher, or if the child is between three months and three years old with a rectal temperature of 102°F (38.9°C) or higher. Additionally, if the child's fever persists beyond a few days or is accompanied by worrisome symptoms, medical attention should be sought.
Nurturing Care at Home:
Providing a supportive and nurturing environment at home is essential for children with fever. Here are some key strategies to consider:
a. Maintaining Hydration: Encourage your child to drink plenty of fluids, such as water, clear broths, or electrolyte solutions, to prevent dehydration. Offer fluids frequently in small amounts to ensure proper hydration.
b. Promoting Rest: Rest is crucial for your child's recovery. Create a calm and comfortable environment for your child to rest and sleep, ensuring they have adequate downtime to recuperate.
c. Dressing Appropriately: Dress your child in lightweight and breathable clothing to help regulate their body temperature. Avoid excessive layering, as it may trap heat and worsen the fever.
d. Using Fever-Reducing Medications: Over-the-counter fever-reducing medications, such as acetaminophen or ibuprofen, can help alleviate discomfort and reduce fever. Always follow the recommended dosage instructions and consult with a healthcare professional if you have any concerns.
e. Sponge Baths: For high fevers, a lukewarm sponge bath can provide temporary relief. Use a soft cloth or sponge dipped in lukewarm water to gently wipe your child's forehead, armpits, and body.
f. Comfort Measures: Offer comforting activities such as reading books, watching movies, or engaging in quiet play to distract and calm your child during their recovery.
Monitoring and Record-Keeping:
Keep a record of your child's temperature and symptoms throughout the course of their fever. This information can be helpful when communicating with healthcare professionals and monitoring the progression of the illness.
Communicating with Healthcare Professionals:
If your child's fever persists or worsens, or if you notice any concerning symptoms, do not hesitate to contact your child's healthcare provider. They can provide guidance, reassurance, and determine if further evaluation or treatment is necessary.
Prevention and Hygiene Practices:
Promote good hygiene practices within your family to minimize the risk of infections. Teach your children the importance of handwashing, proper cough etiquette, and avoiding close contact with sick individuals. Regularly disinfect commonly touched surfaces and encourage healthy habits to prevent the spread of illnesses.
Emotional Support and Reassurance:
Children with fever may feel uncomfortable, irritable, or anxious. Offer them emotional support, reassurance, and comforting physical touch to help alleviate their distress. Be patient and understanding, providing extra care and attention during this time.
Conclusion:
Fever in children can be a worrisome experience for parents, but with proper understanding, nurturing care, and timely medical attention, it can be managed effectively. Remember to trust your instincts as a parent and seek medical advice when needed. By providing a supportive environment, monitoring symptoms, and practicing good hygiene, you can help your child through their fever episode and promote their overall well-being.