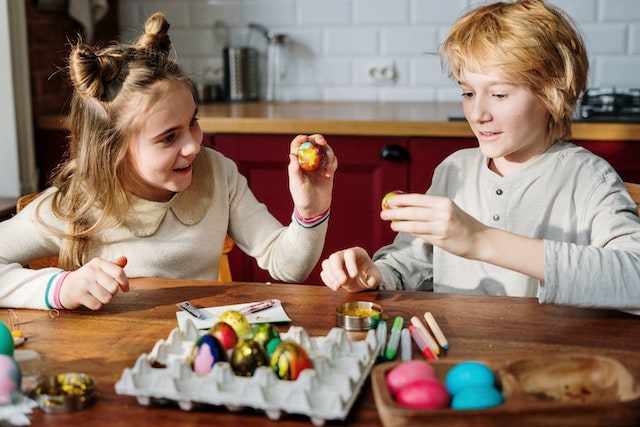 In today's fast-paced digital world, it is essential to find moments of creativity and self-expression. For families, arts and crafts provide a valuable avenue for children to explore their imagination, develop fine motor skills, and bond with their loved ones. In this article, we will delve into the world of arts and crafts in family life, exploring the benefits it offers and sharing tips on how to make it an enriching experience.
Emma Johnson, a freelance graphic designer and devoted mother, understands the importance of nurturing her children's creativity. By providing them with various art supplies, such as paints, markers, and colored pencils, Emma encourages her children to explore different mediums and express themselves freely. This nurturing environment fosters a sense of artistic curiosity, allowing their creativity to flourish.
Engaging in arts and crafts as a family creates opportunities for quality bonding time. Emma often sets aside dedicated art sessions, where everyone in the family gathers around the table to create together. Whether it's painting, collaging, or even simple drawing, these shared experiences strengthen the family bond and create lasting memories.
Arts and crafts offer a limitless canvas for children to explore their imagination. Emma believes in giving her children the freedom to express themselves without judgment. By encouraging open-ended projects, she allows her kids to think outside the box, fostering their problem-solving skills and cultivating a sense of creative thinking that extends beyond the art table.
Engaging in arts and crafts activities helps develop fine motor skills in children. Emma's children have experienced improved hand-eye coordination and dexterity through cutting, coloring, and manipulating various materials. These skills are not only essential for artistic endeavors but also for everyday tasks such as writing, tying shoelaces, and buttoning shirts.
Acknowledging and celebrating a child's artistic achievements is crucial for building confidence and self-esteem. Emma displays her children's artwork around the house, creating a gallery of their creations. This not only shows them that their efforts are valued but also serves as a reminder of their artistic growth over time. Additionally, praising their creativity and encouraging them to showcase their work to family and friends boosts their sense of accomplishment.
Arts and crafts can also foster collaboration and teamwork within the family. Emma often introduces collaborative projects where her children work together to create something unique. Whether it's a collaborative painting or building a sculpture, these projects teach them the value of cooperation, compromise, and appreciating each other's ideas.
Engaging in arts and crafts can also provide an opportunity to connect with family traditions and cultural heritage. Emma introduces her children to traditional crafts and art forms, teaching them about their family's roots and fostering a sense of pride in their heritage. This not only enriches their artistic skills but also strengthens their sense of identity and belonging.
Arts and crafts projects serve as tangible reminders of precious family moments. Emma encourages her children to create handmade cards, scrapbooks, or even personalized gifts for special occasions. These creations become cherished keepsakes that preserve the memories and love shared within the family.
Engaging in arts and crafts as a family brings numerous benefits, from nurturing creativity and developing fine motor skills to fostering a strong bond and creating lasting memories. By providing a nurturing environment, encouraging self-expression, and celebrating artistic achievements, parents like Emma Johnson can unleash their children's creativity and foster a lifelong love for arts and crafts. So gather your art supplies, embrace the mess, and embark on a creative journey that will bring joy and connection to your family's life.