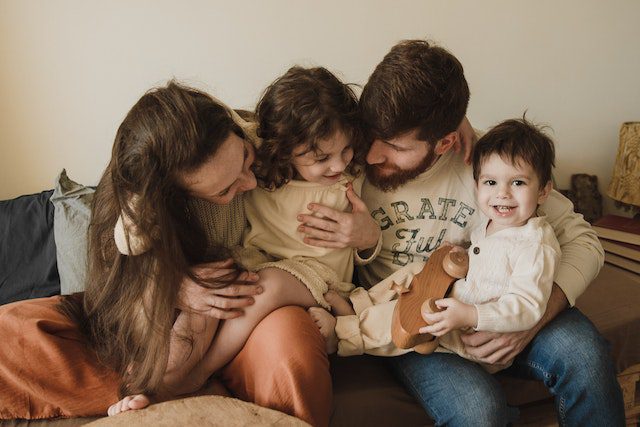 Parenting is one of the most challenging and rewarding jobs a person can undertake. Every parent wants to raise happy, confident, and well-adjusted children, but the approach they take can vary. The way parents interact with their children shapes their children's development, and different parenting styles can have different effects on children's emotional, social, and cognitive growth.
Over the years, psychologists have identified different parenting styles and in this article, we will discuss the different types of parenting styles each characterized by its unique approach to raising children.
Authoritarian Parenting
Authoritarian parents are strict, demanding, and have high expectations of their children. They are not open to negotiation or discussion and expect complete obedience from their children. They often use punishment to enforce their rules and control their children's behavior. Authoritarian parents are less responsive to their children's needs and emotions, and their parenting style tends to be cold and unemotional. Children raised in authoritarian homes may struggle with low self-esteem, anxiety, and depression.
Authoritarian Style parenting may include the following:
Setting strict rules and enforce them with punishment
Focusing on obedience and conformity
May use physical discipline to control behavior
May not communicate reasons for rules or listen to the child's perspective
May create a tense or fearful atmosphere in the home
Permissive Parenting
Permissive parents are warm and loving but have very few rules or expectations of their children. They are more like a friend than a parent and allow their children to make their own decisions. Permissive parents do not believe in punishment and prefer to use positive reinforcement to encourage good behavior. However, their lenient approach can lead to children who lack discipline and may struggle with authority figures outside the home.
Permissive Style parenting may include:
Having few or no rules, and are lenient with enforcement
Prioritizing the child's happiness over discipline
Avoiding confrontation or saying "no"
IInconsistency in their parenting
May allow the child to behave inappropriately in public or at home
Neglectful Parenting
Neglectful parents are uninvolved in their children's lives and provide little emotional or physical support. They do not set rules or expectations for their children, and they may not even know what their children are doing or where they are. Neglectful parents may be dealing with their problems and issues and may not have the time, energy, or resources to focus on their children's needs. Children raised in neglectful homes may have difficulty forming healthy relationships and may struggle with self-esteem and trust issues.
Neglective Style parenting may include:
Lack of emotional warmth and affection for their children
Lack of adequate supervision or guidance
Lack of consistent rules leading to confusion and insecurity
Lack of communication leading to a lack of trust and emotional distance
May not provide for their children's basic needs, such as food, clothing, shelter, and medical care
Neglectful parents may show little interest or concern for their children's well-being or may dismiss their concerns and feelings
:
Some advice for those in this situation:
Seek support from professionals or loved ones.
Show affection and spend quality time with your child
Listen to and validate your child's feelings
Be consistent with parenting style and boundaries
Prioritize your own mental health and practice self-care
Authoritative Parenting
Authoritative parents have high expectations of their children, but they are also warm, responsive, and supportive. They set clear rules and boundaries for their children, but they are also open to negotiation and discussion. They use positive reinforcement to encourage good behavior and provide guidance and support when their children make mistakes. Authoritative parenting fosters independence, self-confidence, and self-discipline in children.
If you want to parent with an authoritative style, here are some tips:
Show warmth and support to your child
Be responsive to your child's needs and emotions
Set clear expectations and rules, but be willing to listen to your child's perspective
Be flexible and willing to adapt your parenting style as your child grows and changes
Encourage your child's independence and decision-making skills
Positive Parenting
Positive parenting is a relatively new parenting style that focuses on positive communication, empathy, and respect for children's feelings and needs. Positive parents view their children as individuals with their unique personalities, strengths, and weaknesses. They provide a nurturing and supportive environment that encourages open communication, problem-solving, and cooperation. Positive parenting emphasizes positive reinforcement, rather than punishment, to encourage good behavior. Positive parents help their children develop self-regulation skills and a positive self-image.
Did you know?
Positive parenting is based on scientific research. Studies have shown that positive parenting techniques lead to better outcomes for children, including improved mental health, stronger self-esteem, and better academic performance.
Positive parenting is a proactive approach to discipline. Rather than simply punishing children for misbehavior, positive parenting focuses on teaching children how to make good choices and guiding them towards positive behaviors
Positive parenting is based on mutual respect. In a positive parenting relationship, parents treat their children with the same respect they would give to other adults. This means listening to their child's perspective, acknowledging their feelings, and involving them in decisions that affect them.
Positive parenting encourages communication. Communication is a key component of positive parenting, and parents who use positive parenting techniques are skilled at listening to their children, asking open-ended questions, and expressing themselves clearly and calmly.
Positive parenting teaches problem-solving skills. Rather than simply telling children what to do, positive parenting teaches children how to solve problems on their own. This helps children develop critical thinking skills and gives them a sense of autonomy and control over their own lives.
Positive Parenting Style may include:
Focus on building a strong, positive relationship with the child
Use positive reinforcement to encourage good behavior
Set clear, age-appropriate boundaries and expectations
Listen to and validate the child's feelings and perspective
Create a safe and supportive environment for the child to grow and thrive.
Being a parent is a challenging job, and it comes with a lot of responsibility. Parents play a significant role in shaping the lives of their children. It is essential to adopt a positive parenting style that promotes healthy growth and development of children. Negative parenting styles can lead to long-term negative consequences on a child's emotional and mental well-being. In this article, we will discuss how to avoid negative parenting styles and promote positive parenting.
How to Avoid Negative Parenting Styles?
Set Clear Boundaries
It is crucial to set clear boundaries and expectations for your children. Children need to know what is expected of them and what the consequences are if they violate the rules. Boundaries should be reasonable, age-appropriate, and consistent. It is essential to communicate with your children about the rules and why they are necessary.
Be Responsive and Supportive
Children need to feel heard and supported by their parents. It is important to be responsive to their emotional needs and provide a safe and nurturing environment. Being emotionally available to your children will help them develop strong emotional intelligence and communication skills.
Be a Positive Role Model
Children learn from their parents, so it is important to model positive behaviors and attitudes. Show your children how to handle stress, conflict, and emotions in a healthy way. Practice empathy, compassion, and kindness towards others.
Encourage Independence and Responsibility
Encourage your children to be independent and responsible. Give them age-appropriate tasks and responsibilities, and let them make their own decisions. This will help them develop a sense of autonomy and self-worth.
Avoid Physical Punishment
Physical punishment can have long-term negative effects on children's emotional and mental well-being. It can lead to anxiety, depression, and aggression. Instead of physical punishment, use positive reinforcement, and constructive feedback to guide your children's behavior.
Build a Strong Relationship
Building a strong relationship with your children is essential to promote positive parenting. Spend quality time with your children, listen to their thoughts and feelings, and be present in their lives. This will help you understand your children better and build a strong bond with them.
Other Types of Parenting
As a parent, you want nothing but the best for your child, and that includes ensuring that they receive the best upbringing possible. However, with a wide range of parenting styles available, choosing the right approach for your family can be a daunting task. It's essential to understand the various options at your disposal and how they can benefit your child's development.
Attachment Parenting
Attachment parenting is a parenting style that emphasizes building a strong bond between parent and child. This approach is based on the idea that a secure and trusting relationship is the foundation for healthy emotional development in children. Attachment parenting prioritizes practices such as extended breastfeeding, co-sleeping, and positive discipline to foster this strong bond.
One of the key principles of attachment parenting is the idea of responding to a child's needs promptly and sensitively. This means paying close attention to your child's cues and responding in a caring and compassionate manner. By doing so, attachment parenting aims to establish a secure attachment between parent and child, which can promote emotional security, confidence, and resilience.
Gentle Parenting
Gentle parenting is a parenting style that emphasizes empathy, respect, and positive communication as the foundation for raising happy, confident, and emotionally intelligent children. This approach is based on the belief that children thrive in an environment that is loving, nurturing, and supportive.
One of the core principles of gentle parenting is active listening. This means paying close attention to your child's thoughts, feelings, and needs, and responding with empathy and understanding. By doing so, parents can establish a strong connection with their child, build trust, and promote emotional security.
Helicopter Parenting
Helicopter parenting is a style of parenting that involves an overbearing and excessive involvement in a child's life. This parenting style has gained widespread attention in recent years due to its potentially negative impact on a child's development. Helicopter parents are characterized by their tendency to constantly hover over their child, offering guidance, advice, and support at every turn. They are often overprotective, shielding their child from any potential harm or discomfort. Helicopter parents also tend to be highly involved in their child's activities, whether it's school, sports, or social events.
Slow Parenting
Slow parenting is a parenting style that emphasizes slowing down and enjoying quality time with your family. This approach is in contrast to the fast-paced, over-scheduled lifestyle that many families find themselves in today. Slow parenting prioritizes spending time together, exploring the world around you, and fostering a love for learning. One of the key tenets of slow parenting is the idea of allowing children to explore at their own pace. Instead of rushing from one activity to another, slow parenting encourages parents to let their children take the lead, to follow their interests and curiosities, and to spend time outdoors and in nature.
Spiritual Parenting
Spiritual parenting is a parenting style that emphasizes the importance of instilling moral and ethical values based on religious or spiritual beliefs. This approach is based on the belief that raising children with a strong sense of faith and spirituality can help them develop a strong moral compass, a sense of purpose, and a deep appreciation for the interconnectedness of all things.
One of the key principles of spiritual parenting is modeling values and behaviors that align with your spiritual beliefs. This means living your faith through your actions and being an example for your children to follow. By doing so, you are helping your child internalize your beliefs and values, and encouraging them to make positive choices in their own lives.
Free-Range Parenting
Free-range parenting is a style of parenting that emphasizes giving children greater independence and autonomy to explore and experience the world around them. Free-range parents believe that children should be allowed to take risks and make mistakes in order to learn and grow, and that they should not be overly protected or sheltered from the world.
Free-range parenting can take many forms, but some common practices include allowing children to walk or bike to school or other activities alone, giving them freedom to play and explore outdoors without constant supervision, and encouraging them to take on age-appropriate responsibilities and challenges.
Conclusion
Parenting styles can have a significant impact on children's growth and development. Understanding the different parenting styles available can be an invaluable tool for parents.
Each approach has its unique strengths and can offer valuable benefits to your child's development. By selecting the style that aligns with your family's values and needs, you can create a nurturing and supportive environment for your child to thrive in. Remember, there is no one-size-fits-all approach, and the best parenting style is the one that works best for you and your family.

While there are different approaches to parenting, it is essential to choose a style that is consistent with your values, beliefs, and goals for your children. Parents who practice authoritative or positive parenting tend to raise children who are happy, confident, and well-adjusted. Understanding different parenting styles can help parents make informed decisions about the type of parenting approach that best suits their family's needs.
Additional Information
We have a collection of articles that goes in depth on each of the parenting styles above.
Authoritarian Parenting Style
Permissive Parenting Style
Neglectful Parenting Style
Authoritative Parenting Style
Positive Parenting Style
Attachment Parenting
Gentle Parenting
Helicopter Parenting
Slow Parenting
Spiritual Parenting
Free-Range Parenting
Other Parenting Styles
If this information was helpful or if you have any feedback for us, please we encourage you to submit your questions or feedback in our comments section.

FAQ about Different Parenting Styles:

Q: Can parenting styles vary within a family?
A: Yes, it is possible for parents to use different parenting styles with different children or in different situations. Additionally, parenting styles may change over time as parents adapt to their children's needs and developmental stages.
Q: Is one parenting style better than the others?
A: There is no one "right" parenting style (non-neglective of course) that works for every child or family. However, research suggests that authoritative and positive parenting is generally associated with the most positive outcomes for children.
Q: Can a parent change their parenting style?
A: Yes, it is possible for parents to change their parenting style through self-reflection, education, and seeking support from professionals or other parents. Changing parenting style may require time and effort, but it can lead to positive changes in the parent-child relationship and the child's development.
Q: Are parenting styles culturally influenced?
A: Yes, cultural values and norms can influence parenting styles. For example, collectivist cultures may emphasize obedience and respect for authority figures, which may lead to more authoritarian parenting styles. On the other hand, individualistic cultures may value independence and self-expression, which may lead to more permissive parenting styles.
Q: Can a child's temperament affect the effectiveness of a parenting style?
A: Yes, a child's temperament can affect how they respond to different parenting styles. For example, a sensitive and anxious child may have a harder time with an authoritarian parenting style, while a more easygoing and independent child may respond well to a permissive parenting style. Parents should consider their child's temperament when deciding on a parenting style and be willing to adapt their approach as needed.
Additional Research and Statistics:
According to a study by the American Psychological Association, children who experience positive parenting are more likely to have better mental health outcomes, including higher levels of self-esteem and lower rates of depression and anxiety.
A study published in the Journal of Family Psychology found that positive parenting practices were associated with fewer behavior problems in children.
According to the Centers for Disease Control and Prevention, child maltreatment can have long-term effects on children's physical and mental health. Positive parenting practices can help prevent child abuse and neglect.
Additional Parenting Resources:
The Positive Parenting Program (Triple P) is a research-based program that provides parents with strategies for promoting positive behavior in children. The program is available in many countries around the world and has been shown to be effective in reducing behavior problems in children.
The National Institute of Child Health and Human Development (NICHD) provides resources for parents on positive parenting practices, including tips for promoting positive behavior and building strong relationships with children.
The American Academy of Pediatrics (AAP) has published guidelines for parents on positive parenting practices, including strategies for promoting healthy development and preventing behavior problems in children.
The Child Mind Institute provides resources for parents on positive parenting, including tips for promoting emotional regulation and coping skills in children.

The Positive Discipline Association provides resources and training for parents and educators on positive discipline techniques, including strategies for promoting cooperation and problem-solving skills in children.